Stay Up-To-Date With Everything Real Estate

FEBRUARY
2020
A Process Designed to Create Clarity so You Can Have Confidence
I'm in the real estate business, but what I do is answer questions and create solutions. The solution we both want, of course, is to move you into your dream home, but along the way, I also have two big priorities: 1) to not let you miss out on any properties of interest, and 2) to not let you pay too much. I know that you may have a lot of questions, but it's my pledge to give you peace of mind and make this the most simple and stress-free process as possible. With the power of Gardner Realtors and its 77+ years of successful experience behind me, I have a tried-and-true process, so let's start there!
Explaining the Funnel Process
Picture a funnel. We will throw in all the homes available to you on the market. Then, we'll put a filter on the funnel to eliminate anything that does not fit your criteria. From this funneling process, we want to come up with your top three homes (this can be a rolling 3, so you can replace one if you find a house that you like even more). Once we find your top 3 favorites, we will run a Comparative Market Analysis (CMA) to ensure the values of these homes are in line with their local markets so that you don't pay too much.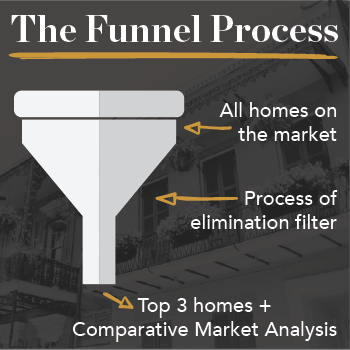 Now that you know the basics of the process let's start by setting some baselines. I have listed a couple of questions below in order to gauge your interest and understand your position in the home buying journey. Our goal for these questions is to begin to dig into your motivation for buying a new home. This will help narrow our scope and be more efficient in our process.
Do you have any properties that you have found that you would like to put in the funnel? This could be a house(s) that you found online, or maybe you've driven by on your way to work, or new construction.
What was it about this property that attracted your attention?
On a scale of 1-10, where are you in the home-buying process? At 1, you are just starting, and at 10, you are ready and would like to find a house today. I've found that most people are a 5 or 6, but I want us both to find clarity on what would have to happen for you to be a 10. Your answer inevitably will be: "Well, we'd have to find the perfect house." And in your perfect house, you will have in your mind a certain amount of beds, baths, square footage, drive time, school district, etc. Now, we can begin to narrow down your actual home buying wants and needs even more.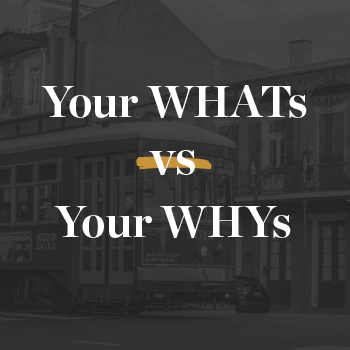 Distinguishing Your WHATs From Your WHYs
For this step in the process, we will go for an old school approach with pen and paper. You and the other decision-makers will each make a list of exactly what you want your dream home to include. Then, put a star beside the three things you absolutely cannot live without.
Now, take a piece of paper and draw a large T. On one side, put your "WHATs." These are the features of the home that you want, the things that you just wrote down. On the other side, put your "WHYs." These are the actual benefits of those features and the underlying motivation behind writing them down.
When you think about these desired features, it could be things like having four bedrooms, a large kitchen, or a big lot. These are the things you would typically type into the search bar when looking for homes online. However, my experience has shown me that home buyers actually desire the benefits of these features. So, your four bedroom request is really because you need a certain layout e.g., a master suite, a guest bedroom and two offices. Your large kitchen request is really because you love to entertain. And your request for a large lot is really a request for peace and privacy. When we look at these lists, it becomes clear that you are actually buying a home based on your WHYs and not your WHATs.
The Bottom Line
I know the home buying process can be filled with nerves and fears. I know that you may be concerned that you are going to miss out on something or that you're going to pay too much. I also know that a good process designed to create clarity can result in confidence. That's what I can give you with my process complemented by the Local Market Tools available to you through Gardner Realtors.
Last year, buyers looked at an average of 10 homes before purchasing one. While looking at homes can be fun, I believe that with my process, we can confidently know your underlying motivations and desires, which creates clarity and confidence in identifying your dream home. This is the home buying process I can lead you on that will succeed!
Are you ready to sell your home? Let's talk today and get started on creating the life you love!

Slidell©
1300 Gause Blvd., Suite C-2
Slidell, LA 70458-2935 USA
©2021 Latter & Blum
Licensed in Louisiana
Copyright © 2021 Latter & Blum. If you have a brokerage relationship with another agency, this is not intended as a solicitation. All information deemed reliable but not guaranteed. Brokerage firm Licensed in Louisiana and Mississippi.