Stay Up-To-Date With Everything Real Estate

JANUARY
2020
Buyer Eyes Pricing
As a home seller, it's important to know what you're up against, and this is especially true when it comes to setting a price for your home. In this sense, what you're up against are the other homes for sale on your street, in your neighborhood and in your local market. Do you know who else is selling in your area? Do you know how much comparable homes are listed for? Have you ever done a ride-along with an agent and gone out and looked at the competition? This is something I love to do as a Real Estate agent, and it's a pricing strategy we call Buyer Eyes Pricing. Going out and scoping the competition takes time, sure, but it's so valuable in knowing what you're up against so that you can set your home up for success i.e., a quick sale for the price you want.
The process of doing this is rather simple. You have to "become the buyer." Take off your seller's hat for a second and focus on looking at homes through the eyes of a potential buyer. What do you like? What don't you like? Buyers all have a "spreadsheet" of things that they're looking for, whether it's a physical sheet or simply a list in their head. We make this even easier by giving you a template that breaks it down in a simple-to-use format so that you can rate the houses through buyer's eyes based on the following 5 factors.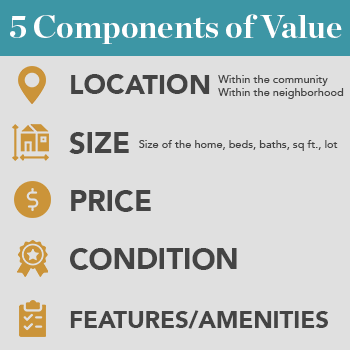 As you go out and look at other properties for sale, go through the process of rating these homes based on these 5 factors to decide which are the best/most important to you. As you pretend to be a buyer, evaluate the competition based on the scores you give for each of the 5 core values.
Using this spreadsheet template is a powerful way to help you decide if you're under or overpricing your home. One of the reasons it works so well is because showing is always better than telling. It's sort of like a football coach preparing his team for their upcoming game. Sure, there are team meetings, but the real preparation is in watching the film of their opponent to know exactly what they are up against. Similarly, we can sit in your kitchen and talk for hours about your home and its marketplace, but there's nothing as powerful as going out onto the "playing field" and visiting and sizing up the competition.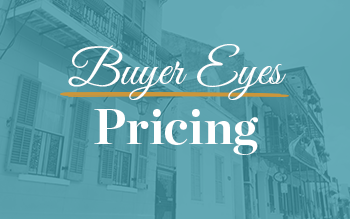 So, let's take it one step further as we think about pricing your home through the eyes of a buyer. When searching online, the average buyer probably searches based on a price range. Let's say they are looking at homes from $450-$500,000 or $500-$550,000. What we now know is that a pricing bridge exists at $500,000. If you price your home at $500,000, you will catch buyers searching in both of these price ranges. If you priced your home at $499,900, you would not catch the buyers searching for $500-$550,000 homes, and could potentially be missing out on a sizable number of potential buyers. What a shame that should be! So, if you're close to one of these price bridges, we recommend pricing on the bridge (in the above example, that would mean setting the price at $500,000). For luxury homes, price searches can be a bit wider. So, in New Orleans, a family may be searching for a home between $800,000-$900,000 and $900,000-$1,000,000. In this case, the price pricing bridge would be $900,000. What we have found through research is that homes that are priced on the pricing bridge receive 28% more showings. And of course, more showings equal more potential buyers. And that is what we're looking for!
Buyer Eyes Pricing is a very valuable, powerful strategy for you as a seller. It allows you to get in the mind of a buyer by rating the competition on the 5 Components of Value a.k.a. the things that we all look for in a home. Then, with all the other Local Market Tools available to you through Gardner Realtors, we can set a price that is not only attractive to buyers but within a range you deem advantageous for you. By pricing on the bridge, we will take it one step further by ensuring that you are casting a wide net for potential buyers.
Are you ready to sell your home? Let's talk today and get started on creating the life you love!

Mandeville©
One Causeway Place, 1119 N. Causeway Blvd., Suite 2
Mandeville, LA 70471 USA
©2021 Latter & Blum
Licensed in Louisiana
Copyright © 2021 Latter & Blum. If you have a brokerage relationship with another agency, this is not intended as a solicitation. All information deemed reliable but not guaranteed. Brokerage firm Licensed in Louisiana and Mississippi.